Here are my advertising results from 12/3/17 – 1/1/18 Using Trck.me
This is part a my Free Advertising Strategy I teach at Trafficleads2incomeVM.
The link used is:   My Trafficleads2incomeVM Lead Capture Page
I use Referral Frenzy to blast my ads every morning. This takes less than 5 minutes! Note that Lead Magnet, Mister Safelist, Viral Mail Profits, and SOTAM are not part of Referral Frenzy so they have to be mailed to manually; or use Ulti-Send at Viral Mail Profits for some automation. Also note the image below is sorted by Conversion to Click Ratio. (A conversion in this case is a new lead.)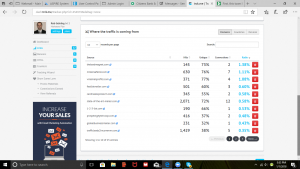 All of the resources above are available in the Trafficleads2incomeVM Downline Builder.
Now, for my Paid Traffic I used MLMLeads.
How about a 48.47% Opt in Rate versus 0.47%? That is over 100% more effective and shows the power of paid marketing and I get the majority of my sales this way as well. Along with a close to 50% Opt-in rate; I also get a 10% sales conversion.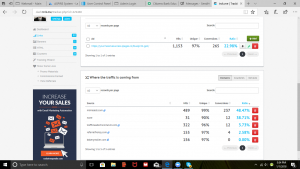 So there you go, all my secrets! Until Next Month!
Rob Gehring
Your Massive Success Coach
Learn more about me and my online business right HERE. If you like what you hear, move forward and begin your journey to earning. Work we me and my Massive Success Team and I guarantee you will have YOUR BREAKTHROUGH TOO! As you can see, I know a bit about TRAFFIC.  🙂