Click HERE for Past Conference Recordings
Step A
Welcome to Trafficleads2incomeVM and Massive Success! 
If you came across this page after filling out a lead capture form, check your email for your sponsor's join link for Trafficleads2incomeVM.
Look for the subject line Where do we send your commission checks?
Check all your email folders for it and also for your confirmation link which is in the email entitled Welcome to Trafficleads2incomeVM. You cannot proceed forward without activating your account. Click HERE for a video that explains the join and confirmation process. Click HERE for entry in our Telegram Support Group for additional support. 
(TrafficLeads2IncomeVM is a viral mailer, which means you can advertise via email to their members. It also has a lead capture page system.) Now enjoy 10000 Credits via this Promo Code:  MMSBlog    step1done is the promo code you seek for Step 1 of the 7 Steps of Success.
Login HERE for our exclusive MSF 500 Package, you will find it in the Buy Credits Area. It is the last package as listed on the screen shot below.

Here is what you get with this MASSIVE Package:
– A Top Upgrade in Trafficleads2incomevm giving you 10000 advertising credits per day, full access to all of our training, and the best of everything we have to offer
– The ability to earn 60% Commissions on every purchase including 600 dollars per sale on the resale of the MSF 500 Package
– Access to the MSF (Massive Success Funnel) Set Up. The only extra part you need is Conversion Pros (50.00/mo)
– 2 bonus shares in our paid ad co op (They are valued at 50.00 a piece so you get FREE Paid Traffic for 2 Months
– 5 New Downline Members per Month
– Access to our Telegram Mentoring Group
– Access to our voice conference room with Moderators standing by to help and support you. In addition a special Sunday Night meeting that is recorded. Recordings are in our special Training and Resource area.
– One on one coaching and mentoring on how to lead and coach a team to earn 4-5 figures monthly
– Daily motivation and inspiration
– We assist in closing your sales in our voice conference room
Lock in this Package NOW!!! Then Click Here for your Training. (You'll get the password when added to our MSF 500 Telegram Mentoring Group.)
If you would like to simply get the Lifetime Upgrade, a Monthly Co Op Share, and the ability to earn $500 Dollar commissions, Choose this Option from the Buy Credits Area (It is not one of the One Time Offers):
Lock in this Package NOW!!! Then Click Here for your Training. (You'll get the password when added to our MSF 500 Telegram Mentoring Group.)
There are other upgrade options in the Upgrade Area (left hand column); or If you want to Earn your Upgrade with Sweat Equity, read about our Income Acceleration Plan HERE.
Depending on your Upgrade Level and resources you have, that will determine the funnel that you'll be able to create. You will be coached on this when you get to this point in your training. An Upgrade is required to go through our 7 Step Training Course.
Join us every Wednesday Night at 8pm est for our Weekly MSF Open House. We will review the Massive Success options and welcome all of our new members! The meeting is a Facebook Live Stream in our Facebook Group. Join HERE and then watch for the Live Stream to begin each Wednesday at 8pm est.
********************************************************************************
Massive Marketing Success is a method I am using to promote a branded lead capture/squeeze page that generates leads for my Primary Business and can also be applied to all opportunities. The reason you would want to use a page like this is you gain additional credibility when your page is unique and personal. In other words, not just another company page plus these are real time leads your are generating!  Other elements of income from this plan can be derived from Trafficleads2incomeVM, The Conversion Pros, ClickTrackProfit, Referral Frenzy, and our Traffic Co-Op! So essentially, you are generating leads for these as well and some your own resources and opportunities too through our Downline Builder!
Step B
The setup that follows is a Conversion Pros example setup using the Trafficleads2incomevm Page Builder. If by chance you purchased the MSF 500 Package, at this point you can proceed to the setup HERE since you earn two paid advertising shares in our Traffic CoOp as part of this package. You get the Best Paid Traffic pointed right to your page! We use a different page for our Paid Traffic than we do for our FREE Traffic. Let's help you earn 500 dollar commissions as soon as possible!
(The Setup Below is for those who want to learn to build their list first then enter people into the Trafficleads2incomeVM Funnel using FREE Viral Mailer Traffic. This course is only available to upgraded TL2IVM Members using Conversion Pros as their Autoresponder. See the 7 Step set up in your TL2IVM members area if you are using another autoresponder.)
Follow the 7 Step Marketing System in Trafficleads2incomeVM. You will find the steps begin on the Home Page after you first log in to the members area. The First Step is right on that page. Before leaving Step 1, make sure you enter the promo code step1done there to get your Bonus Credits. In Step 2, you are going to need an autoresponder and if you are a Member of or Join The Conversion Pros, you will have that and much more! 
At this point please continue to follow the instructions laid out in the video above which review the set up with you. This guides you through the first 5 Steps with The Conversion Pros as the chosen Autoresponder. Review Step C below as well for some additional details. Here is the shared campaign code to upload the email campaign:  037b61c3   Just make sure you change my details to yours.
Step C
Now go back to TrafficLeads2IncomeVM.
The next piece of business is creating your Lead Capture Page. As explained in Step 4 in TL2IVM, Paste your Form Code in the box indicated and Click Save My Autoresponder Code. Click Create New Lead Capture Page, choose your template, and name your page MMS. Now select your new page from the dropdown menu and edit it as shown below: (If you are not using an autoresponder, you can replace the #AUTORESPONDER# code with your Primary Business Link or any link for that matter. (Referred to as a splash page). (Again, easily editable to your customizations.)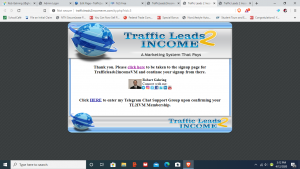 While you still on Step 4, again you can edit your thank you page (above), adding a link to your Company's or your Personal (Bridge) Sales Page (You could also add video embed code to make a personal introduction to your Sales Page right from the thank you Page. This eliminates the need for a separate Bridge page.) You can also simply leave the thank you as is, so you bring your leads to Trafficleads2incomeVM and the 7 Steps to Success training system. I added the link to our Telegram Group on the example above.
Tip: When setting up links in a custom Blog or Webpage, always choose the option to open up in a new window which is also known as Target _blank.
Your new MMS System now gives you a special list building lead capture page that will bring people to your MMS System, where they will have all the tools and support to build their own TL2IVM and other downlines as well as Drive Leads to Their Primary Business!
Step D
Follow Steps 5-7 in TrafficLeads2IncomeVM in order to get Traffic to your new Lead Capture Page, which will build your list, build your Primary Business Downline, your TrafficLeads2IncomeVM Downline and ultimately your Income too! Join the Primary Business recommendation of your sponsor listed in Step 5/Income Section of the Downline Builder.  Referral Frenzy is a HUGE resource mentioned in Step 5 at TL2IVM which drives traffic to your splash/lead capture page funneling leads into your Primary Business. Join from the Trafficleads2incomeVM Downline Builder. See my Traffic CoOp offer HERE or in Trafficleads2incomeVM, Step 7 of the 7 Steps to Your Success for an even bigger boost of Traffic. Our Paid Traffic runs steady daily for an entire month! Your TL2IVM created lead capture page is great for FREE Traffic, but for Paid Traffic you'll want to convert to one of our TCP Top Performing Templates. While at the Traffic CoOp Blog check out our Top Performing MSF 500 Funnel.
Additionally, if you are looking for a great promotional email for MMS, see your Affiliate ToolBox Area in Trafficleads2incomeVM, Step 5, Subject: Introducing the Massive Marketing System (MMS)
Here's to your MASSIVE success!
Robert Gehring
P.S. We offer LIVE VOICE SUPPORT in our Conference Room below (Just ask for one of our leaders to meet you there. No password is required.)
Skype and Facebook: rob.gehring
Telegram @robgehring
v 5.10