Hello again!
I'd like to proudly announce the creation of a Traffic Co-Op for Trafficleads2incomeVM Members.
Below is a webinar I hosted where I explained how my traffic co op works.
Here's how it works:
A. Login to Trafficleads2incomeVM. (Check with your sponsor/coach for their link if not a member.)
B. Click on Buy Credits on the Left Menu and Choose either Co-Op or Recurring Co-Op.
If you choose Co-Op you get 1 paid traffic share which gives you Paid Top Tier T1 Traffic for 30 Days!
Choose Recurring Co-Op so you stay in the rotator month after month. For either package, choose Co-Op again or Co-Op 2 Share to add more paid advertising shares.
Click Traffic CoOp Recurring with Manual TL2L Upgrade to add our Top Level TL2L Upgrade! Click HERE to see what the upgrade entails.
If you choose the MSF 500 Package (Not shown on pic above) you get 2 FREE Bonus Shares so that is 2 months of FREE Traffic!
The more folks that come in, the lower the price per click will be. We are currently at 36 cents per click which is ROCK BOTTOM PRICING for Paid Traffic that is Top Tier and highly responsive.
C. Send me your lead capture page via Support Ticket from FAQ/Ask Admin on the left menu. A TL2IVM lead capture page made from the 7 Steps can be converted into a special page (See further down). An even better funnel that works great in this co-op is pictured below which allows you to earn 500 Dollar Commissions!: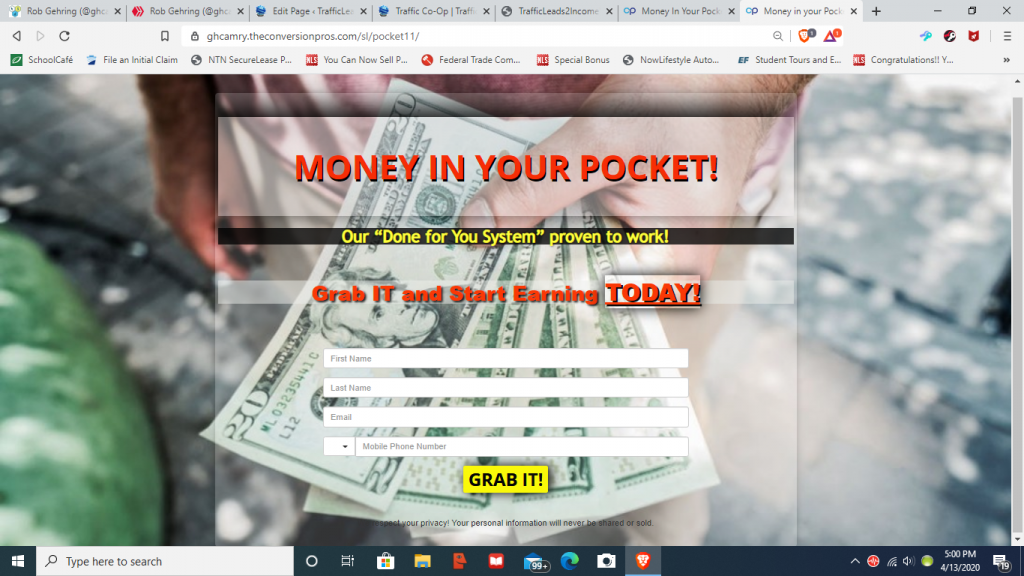 If you like this set up (called Pocket ) and you want to host it yourself, go to your Trafficleads2incomevm backoffice and click on Downline Builder/Resources/TheConversionPros to join/update your referral ID. If you want to use another autoresponder than TCP and me to host your page, that is fine too. Either way, follow the set up guide HERE.
Your Thank You Page also must be able to accept my special tracking. It gets inserted in the header of the Thank You Page. See me for the code if you are hosting your own page. My telegram ID is robgehring
The Thank You Page is the page the subscriber goes to after the lead capture form is filled in. Remember, you can use your TL2IVM Thank you page, your "pocket" thank you, or any page of your choosing provided you can place the tracking code on the Thank you/Landing page. As mentioned above if you complete a 7 Step Funnel Set Up at TL2IVM I can convert your TL2IVM Lead Capture page into another of our "Pocket" creations and utilize your TL2IVM Thank you page. See another great example below:
D. Join our Telegram Group in Step E (if you are not already there) below for additional support in your traffic and lead generation journey. Part of being in this co-op is the opportunity to get training and support from myself and our team. There is strength in numbers in this co-op in so many ways! See you on the inside!!!
E. Let's review the steps. Pay – Send Support Ticket with Lead Capture Link after adding tracking code to your landing page and chat with us at our Telegram Group. If you don't have a custom funnel, choose one of the options presented in Step C above. Our group on Telegram has actual Co Op participants, one being premier marketer Janet Legere of CLBLearning and another Jon Olson and Blain Jones of ClickTrackProfit. Click HERE to gain access.
Rob Gehring – Admin and Owner of Trafficleads2incomeVM
Skype and Facebook: rob.gehring, Telegram: @robgehring, Twitter: @robsnetworkers
P.S. Promote the Co Op and earn up to 60% commissions which can be used to purchase a Co Op share. A swipe email can be found in the Affiliate Toolbox Area of Trafficleads2incomeVM, Step 5. If you are sending it to your TL2IVM downline, replace your referral url with the Telegram Group link since they are already members of T2IVM.