As you may have heard, I have pivoted my Wednesday Night Online Marketing Mastery to a resource called Genesis Lifestyle Network. It takes something special to cause one to tweak their focus; and trust me I preach against "shiny object" syndrome all the time. But folks, this is no shiny object or limited time gimmick. It's the real deal. So how is my Trafficleads2incomeVM program integrated with GLN and why?
Well, easy. GLN offers Core Products that you can place in your marketing funnel that can earn you up to 1200d in commissions. At the same time, you have TL2IVM listed in the Online Marketplace/Viral Mailer Area.
Great FREE Traffic and List Building in Viral Mailers Training
Then, we get a listing in Online Marketplace/Traffic Vendors.
Now we add the Selling Mastery (MSF500) and Traffic Co Op. Get the paid traffic that brings the prospects and the training on how to turn them into paying customers.
Finally, how about help closing your sales? Well, we a Sales Closing Webinar available on Wednesdays at 8pm est, where you bring your prospects and reap the benefits in upgrades!
You get a coded webinar page with your GLN ID as a Member like THIS! Grab last night's recording from this page (12/16/20).
I am also the Sales Closer for GLN and am integrated into the sales funnel. Folks who join GLN are offered a survey then my appointment calendar; and then the magic happens from there.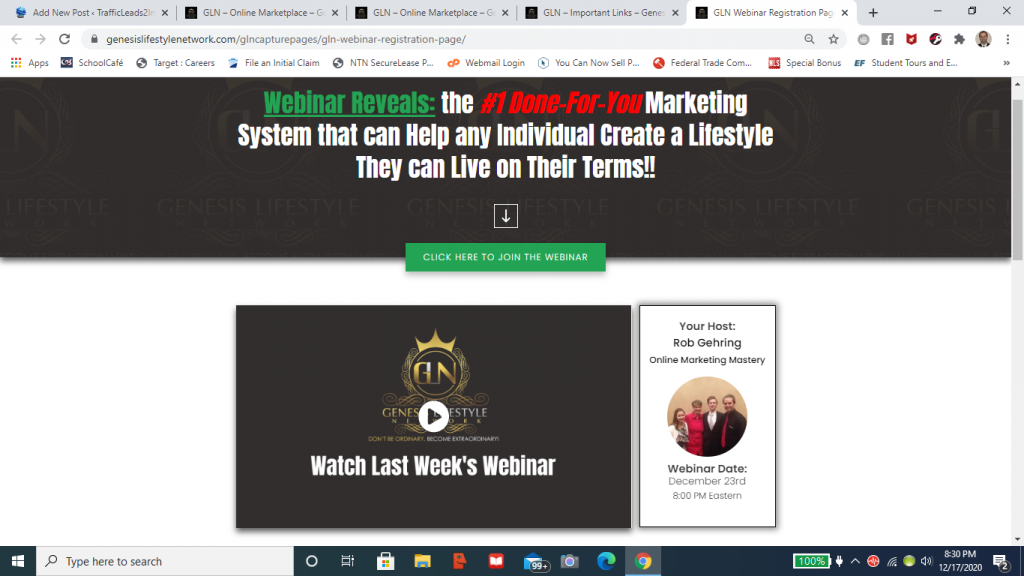 So to review, great Lead Captures, Thank You Pages, Digital Product Assortment, Earnings Potential, Traffic, Sales and Follow Up Training, and Closers standing by.
As they say in court, ladies and gentlemen, I rest my case. Join GLN here and we'll see you here Wednesday 6/2 for another edition of Online Marketing Mastery!
To Your Massive Success!
Rob Gehring – Owner of Trafficleads2incomeVM and Mentor/Coach for Team Massive Success and Genesis Lifestyle Network