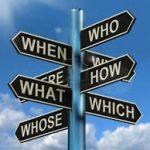 Confusion leads to clarity…
I learned a concept a couple of years ago, that dramatically enhanced my ability to learn new  skills and create ideas, and what the concept specifically states is that in order to have clarity –  it HAS to be preceded by confusion, because of the nature of the mind – AND, not only that – it  couldn't be any other way.    In fact, you could say that you can't NOT be confused before you have a breakthrough.    First, let's answer the hidden question of 'why' that is, and then let me tell you how you can  utilize that concept to create inspiration and personal growth on demand, at any time you  choose…
So why does your mind NEED to create confusion, in order to have personal breakthroughs?
There were three things that added to the quantity and quality of insights, and when I picked up  on why they happened, I found out how to have them all the time, and now that I have spent 8  years researching the mind, ​I understand WHY they happen​, as well.  Creating 'Inspirational Flashes' On Demand.
These are the three things that force instantaneous inspiration to appear:
1.  The ​amount of time​ I studied, and the ​number and quality of direct and specific  unanswered questions​ I had in my mind.
2.  The ​amount of contradicting information I encountered​ on a day to day basis.  This step caused a new set of direct questions.
3.  The ​desire, intensity, and length of asking​ the questions and ​actively seeking answers  and solutions.    These three things working together at one point will cause the fourth step to manifest:
4.  Either I have a nervous breakdown and stop asking questions, OR I have burst of brilliant inspiration, eventually, connecting seemingly nonsensical data into a blinding insight that solves  an apparent unsolvable problem.
POW. Every single time I've followed that formula, I've gotten a unique 'inspirational insight' into  whatever subject I've used it on.
Why?  It's actually pretty simple – the human nervous system operates predominantly on two  kinds of memory Electrical and Reflex.    Reflex memory​ is what everyone is used to and in most things we do, is actually the most  useful.  It also takes several days to form and is the hardest to increase.  The reason reflex  memory is powerful, is that it takes zero processing time to use – so with language, for example,  you can speak while simultaneously thinking because language is actually a physical, hardwired  connection between representational systems in the brain.
Electrical memory​, however, has by far the greater level of insight and memories, is easy to  form and manipulate, and doesn't operate on the same principles at all as reflexes do.  Because  the connections are not stored directly in the brain, but are instead an interference pattern  similar to what creates a hologram – you can store an unlimited amount of data, it just requires  slight processing time to be able to use.
ALL memory is simply a set of connections between relevant or irrelevant data that you formed  either on purpose or unconsciously throughout your life.  With a reflex, it takes 2­4 days for a  nerve cell to actually grow and form a solid, permanent connection with another cell, with  Electrical memory, it can form and develop almost instantaneous permanence, that can also  develop into reflexes later.
An example would be – if you ever have gotten in a life threatening car crash – the tie between  […]